Illustrator & Graphic Designer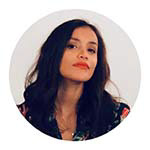 My name is Carla, I am a graphic designer and illustrator based in Switzerland. I am really into drawing human shapes, lines and plants filled with bright colours.
Since 2013, I've had the chance to work on a variety of different projects, from storyboard illustration, greeting cards, characters, branding, printed illustration and scribing videos (animated whiteboard video). 
I am always looking for new projects. I just love to design and can't stop creating stuff!
I welcome interest from anyone ; from writers, publishers or web agencies who would like to collaborate. Just drop me a line at carla.or@gmail.com.